HNS Long Fiber Forage for horses
GROWN IN THE BEST MICRO CLIMATE IN NORTH AMERICA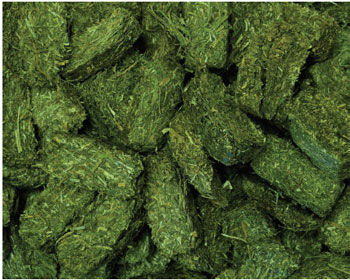 HNS Animal Health & Nutrition Inc. introduces new concept of Long Fiber Forage Cubes
Nutrient Rich - Dust Free Forage, Ontario Grown, Seed to Stable Traceability.

Nutritional Information
100% Ontario grown long ber alfalfa and timothy cubes, naturally dried, without any arti cial ingredients- food grade bentonite used as natural mineral binder.
The lower drying temperatures used preserve the proteins, nutrients and colour of the Alfalfa and Timothy forage cubes.
Increase chewing activity and saliva production.
Dust free and can help to prevent or decrease the effects of RAO/COPD.
Best quality all year as ensured by the iTrackAgra™ Seed to Stable™ System.

Prolong chewing time and increase gastrointestinal health.
Increase hind-gut activity and enrich microbial ora.
Allow the horse or pony to show naturally slowed feeding behavior.
Help to develop better rehydrating and longer working/performance abilities in horses.
Cubes are degraded slowly by microbes in the hind gut and over "slow long term energy" to the horse. It won't make them hot, but keeps them in a perfect condition and ready for work.
Shipping costs for this item vary greatly. You will be contacted after purchase and provided with shipping information.
MANUFACTURED BY: BRUCE AGRA DEHY INC. for HNS Animal Health & Nutrition Inc.
IMPORTED BY: StemPhase Biomedical Ltd.
PRICING: $21 per 50lb bag Nation Wide (Plus Shipping)
DELIVERY: Skid loads of 45 bags are shipped from NY State anywhere in the USA
Distributor for HNS Animal Health and Nutrition Inc.
StemPhase Biomedical
1 (519) 463-9640
gabrielesutton@aol.com

Statements on the package have not been evaluated by the FDA or Health Canada.
This Product is not intended to diagnose, treat, cure or prevent any disease.